On October 1-2, 2022 the Japanese Conservative Union (JCU) had the privilege of attending CPAC Australia where Chairman Jay Aeba delivered a speech. This was the first time in three years that CPAC, the Conservative Political Action Conference, was able to be held with guests from overseas in Australia.
In his speech, Jay thanked Australia for their outpouring of love to Japan after the assassination of former Prime Minister Abe, talked about the post-war history of Australia-Japan relations, and the need to recognize China as a threat to both nations' security. Australia sent not only its current head of state but also three former prime ministers to Shinzo Abe's state funeral last September. Jay highlighted in his speech that former Australian Prime Minister Sir Robert Menzies was the first western leader to visit Japan post-WWII. Menzies helped normalize relations with Japan and set the seeds for the current relationship. One of the fruits of this relationship is shown in a recent poll from the Lowy Institute which found that 87% of Australians see Japan as a trustworthy nation.
Jay also had the opportunity to interview former Prime Minister Tony Abbott, one of Australia's most prominent conservative voices. JCU Secretary to the Chairman Matthew Noyes also had the chance to interview Senator Jacinta Nampijinpa Price, a rising star in Australian politics, and Daisy Cousens a commentator and Sky News Australia contributor for JCU's YouTube Channel.
Through participation in CPAC Australia, JCU believes it was able to take part in strengthening the bonds between conservatives across borders. JCU believes that in order for us to stand against tyranny, conservatives from every country must stand up in their own self-interest and voluntarily work together with conservatives from other countries.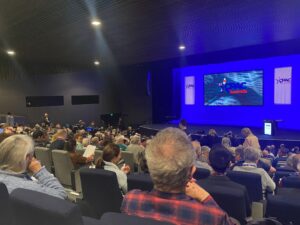 The auditorium as it filled up in the morning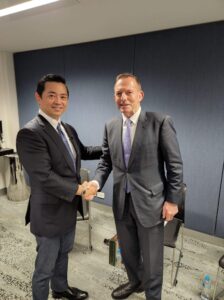 Jay with Fmr. PM Abbott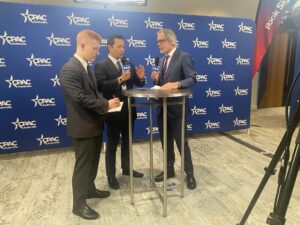 Jay being interviewed by ADH TV's Fred Pawle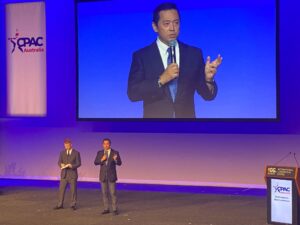 Jay delivering his speech